Apply for a U.S. Visa
in Lithuania
Important Notice!
Please note that your receipt is available for scheduling once your bank confirms that the transaction has been processed successfully.
Please contact us before attempting any additional payments to prevent the possibility of a duplicate payment.
Make sure to review the payment information provided below.
Bank and Payment Options/Pay My Visa Fee
On this page:
---
Overview
Most applicants, including children, are required to pay a Machine Readable Visa (MRV) fee to initiate their U.S. visa application. This US Government-mandated fee is a visa processing fee that is payable whether or not a visa is issued.
The MRV fee is non-refundable and non-transferable. Applicants should first determine whether or not they require a visa to travel to the US before submitting their applications.
Examples of individuals that may not require a visa include, but are not limited to:
If you already hold a valid visa for your intended purpose of travel
If you are a citizen of Canada or Bermuda (but not applying for an A, E, G, K or V visa category)
Examples of individuals that may not be required to pay an MRV fee include:
If you are applying for an A or G visa for official travel
If you are applying for a J visa to participate in a U.S. Government-sponsored program (programs beginning with G-1, G-2, G-3, G-7)
If you do need to apply for a visa, please follow the instructions below for paying your visa application fee. For more information about fee exemptions, please visit this page.
Remember: Applicants are limited to the number of times they can reschedule their appointments. Please plan accordingly so that you are not required to pay another visa application fee. Visa application fees are nonrefundable.
Instructions to Pay Your Visa fee
In Lithuania you may pay your visa fee online using the Trustly service (Direct Bank Transfer). You must first register on the applicant site and choose the 'schedule your appointment' option to access the payment option details. See below for the steps.
Step 1
Log-in to our online applicant system and create a profile. This will ensure the proper amount is paid and activated in timely manner. Values are shown in U.S. Dollars (USD); however the Fee payable is in Euros (EUR). This page has more information about the different visa application fees.
Step 2
Click on Schedule My Appointment option on the left-hand side of your screen. Complete Steps for Visa Type, Post, Visa Category and Visa Class.
Step 3
Once you are on the Payment screen, click on Payment Options and choose Trustly. To review further payment details read the Fee Payment Options sections below.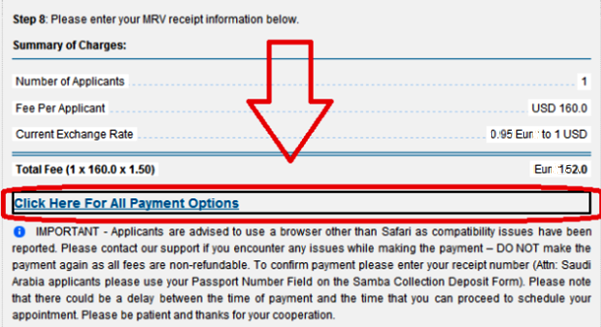 The EURO amounts are based on the consular currency exchange rate determined by the U.S. Department of State. Applicants who do not pay the correct fee for their visa type may be restricted from scheduling an interview.
Step 4
Pick the payment option and make your payment. When you pay the visa fee, you acknowledge that this is a non-refundable visa application processing fee required as a prerequisite to the processing of an application. It does not indicate the existence of a contract with the applicant, nor does it guarantee a successful application. There is no refund possible regardless of the outcome of this application.
Step 5
You must save your CGI reference number. You will not be able to schedule an appointment without your CGI reference number.
Step 6
Once you pay your visa fee, you can schedule your interview according to the Visa Application Fee Payment Processing Timelines below. Log-in to your profile and complete the Schedule Your Appointment steps with your CGI reference number.
Fee Payment Options
Trustly (Electronic Transfer)
You may pay your MRV fee using your online bank account using the Trustly service (Direct Bank Transfer). This payment process can be administered online.
After logging into your

profile, please proceed with scheduling an appointment for your visa interview. At Step 8 of the process, you will be prompted to choose the Trustly payment option for paying the visa application fee prior to selecting the date and time of the interview or, if eligible, prior to receiving an Interview Waiver confirmation letter. After selecting the Trustly payment option, you will need to enter your internet banking details.

Before your payment is verified, you will receive a CGI Reference Number on screen.

Upon successful completion of your payment, you will be redirected back to your profile. This action will serve as confirmation that your payment has been received and is being processed.

BE SURE TO KEEP/PRINT your CGI Reference Number. This number is proof of payment and is used to schedule your visa appointment at the Embassy

. Your CGI reference number is also available on the statement of payment from your online bank account.
When making your online payment please:
DO NOT refresh the web page
DO NOT press the back button on your browser
DO NOT open a new window
DO NOT close your web browser until a payment confirmation appears.
Performing any of these actions may result in multiple payments. Since there may be delays in payment processing, if an error occurs please check your bank account to determine whether your payment has processed. Please contact us before attempting any additional payments to prevent the possibility of a duplicate payment.
Scheduling Your Interview
Whether you schedule your appointment online or contact our call center, you will need the CGI receipt number.
The table below shows the fee payment processing time and when you can expect to schedule your interview after paying your application fee.
Visa Application Fee Payment Processing Timelines

| Payment Method | Interview Scheduling | Receipt Number for Scheduling Interview |
| --- | --- | --- |
| Trustly | pending confirmation of transaction by payer's bank | CGI Reference Number |