Apply for a U.S. Visa
in Malaysia
Online Payment for Maybank Customers
Maybank customers are able to pay their visa fees through online transfer at Maybank's web site (Maybank2u.com).
How to Pay Online
Step 1
Click here to go to the Maybank web site, login to your Maybank2u account and follow the bank's instructions to make an online transfer..
Step 2
Initiating an online transfer to Envo BPO Services Sdn Bhd by following the steps below:
Click on "Account & Banking"
Go to

Transfer

 option: Click "New 3rd Party Account Transfer"
When you are ready to make the online transfer as seen in the image below, enter the following important pieces of data: 
Amount: "The exact amount of your Visa Fees in Ringgit (MYR)"
To 3rd Party Account Number: 514486-519298
Effective Date: Today
Recipient email: usvisafee@envobpo.com
Recipient's Name: Envo Bpo Services Sdn Bhd
Recipient Reference: "Applicant's Passport Number" (i.e. A12345678)
Other Payment Details: "Applicant's Mobile Number"
Ensure that the DETAILS OF THE RECIPIENT are correctly entered before you click "Continue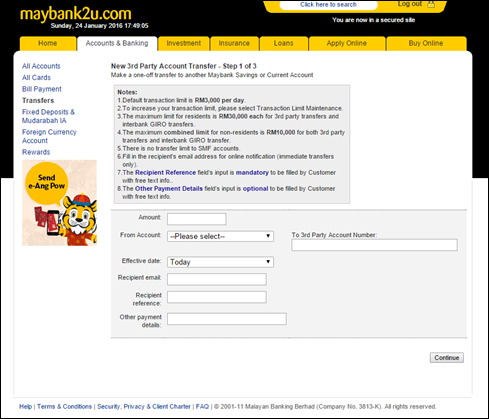 Step 3
Request for TAC. An SMS with TAC Number will be sent to your registered mobile number by the bank (i.e. 123456). This number is valid for only 4 minutes.
Step 4
Upon completion, print out the bank receipt. If you have further questions for the bank only, contact Maybank directly.
Step 5
Click here to schedule your appointment online, or click here to schedule your appointment with an agent. The table below shows the fee payment processing time and when you can schedule your interview after paying online your application fee.
NOTE: Please enter your "Passport Number" as the "Recipient Reference", it will then be used as your "Receipt Number". (Recipient Reference=Passport Number=Receipt Number)
Visa Application Fee Payment Processing Timelines - Cash at Bank & Maybank Online Account Holders

| Time of Payment | Bank | Interview Booking |
| --- | --- | --- |
| Weekend or after 4.30pm on a banking day | Maybank | anytime after 2pm on the next banking day |
| Between 9am - 4.30pm on a banking day | Maybank | 5 hours after payment made |
More Information
If you have any questions regarding the consular currency exchange rate, see the Visa Fee page; click here to create a profile and answer five short questions so that we can determine the correct amount you must pay.